AirkeeTM Healthcare Air Monitoring and Processing System
Every healthcare professional in the world has to face chemical gas contamination(eg. irritant disinfectant ,sterilant, anesthesia gas, inert gas, surgical smoke, dust, etc.,) and various pathogenic bacteria, virus transmitted through air and aerosol that are widely present in healthcare working places.
Healkee is honored to launch an innovative one-stop medical air monitoring and processing system globally, with unique "lower exhaust & upper supply", "vacuum ventilation" and "six-shields" purification and sterilization mode that effectively purifies various pollutants in healthcare working environment.
A colloidal dispersion system formed by solid or liquid small particles dispersed and suspended in a gas medium, about 0.001 to 100 μm.
Biological aerosol can enter into human respiratory system which is harmful.
Viral aerosols, bacterial aerosols, fungal aerosols, are all harmful to human health.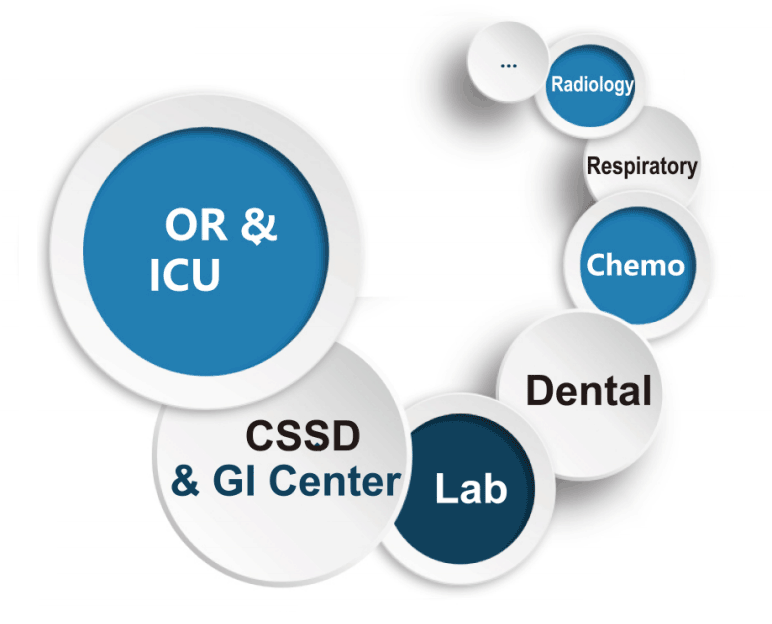 Aerosol in Healthcare Environment
√
Aerosols and suspended solids in air containing pathogenic microorganisms by high-speed air drill, air saw, ventilator, vacuum suction, endotracheal tube and cardiopulmonary resuscitation
√
Large amount of water mist, droplets and aerosols, mixed with patients' saliva and blood by high-speed headpiece (10,000/s), and water spraying reduces the high temperature
√
Cleaning area with high-pressure water/air gun, ultrasonic cleaning can easily produce a large number of visible aerosols containing pathogens, disinfectant, etc., Packing area with large volume of dust caused by the usage of non-woven fabric
√
Use of bronchoscope and other devices
√
Chemo drugs spills, forming aerosols containing toxic particles
√
Infectious aerosols generated by each step processing of a large number of samples of blood, body fluids and secretions in lab

3.57% positive air simples of CONVID-2019 virus detected in ICU on Jan 28 2020

Respiratory tract infections accounted for 37.89% of hospital acquired infections

One puerpera with coxsackie B virus caused 44 newborn infected,13 deaths through air transmission

Airborne transmission of Norwalk-like virus in Toronto hospitals, Canada caused acute gastroenteritis in more than 500 medical staff and 49 patients
Integrated Real-time Monitoring & Control Module

Integrated Sensor Arrays: Switzerland and Japan made Formaldehyde/ glutaraldehyde/ OPA/ PA/ H2O2/ aerosol/ dust high-precision sensors

Smart Control Module: HD color touch screen allowing to select multiple objects upon actual application scenario, and automatically correct the measurement interference of mixed gas

Real-time Display & Auto-alarm: Displays single or multiple objects concentration in real time with color change once exceeds maximum safe level, auto-alarm if shelf life of filter materials expires
6-shields Air Purification & Disinfection

Lower Exhaust & Upper Supply: Heavier gases and aerosol deposited in the lower section, that can be purified and discharged to outdoor, and filtered clean air supplied from the upper section under positive pressure.
Vacuum Ventilation: Indoor vacuum status prevents the contaminated air from spreading.

HEPA Filters: Remove dust/aerosol

Activated Carbon

Nano Filter Materials
Remove dust/aerosol; Remove Virus/Bacterial; Remove Chemical Gas

Anion Generator

Circulating U.V device